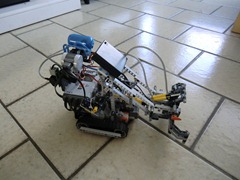 The Pneuma-Snatcher is a very ugly robot based on the very nice looking Snatcher, designed by Laurens Valk.
I used the two valve kits that Mindsensors sent to me a week or so ago.  They work very well for controlling the pneumatic valves.  If you hook them up to the NXTServo controller, you end up with a very nice way to pneumaticify (yes, that's a real word) your creations. The only problem I had with this robot was the really, really, really slow compressor. It takes ages to fill and the pressure drops very quickly once it is used by one of the cylinders. More air tanks and a better compressor design would probably solve this issue. I used the Dexter Industries dPressure sensor to constantly monitor the pressure in the air tank and top it up when necessary.
I shot a quick video of the Pneuma-Snatcher in action. I cut out a lot of the waiting for the tank to refill so you won't be bored to death watching it.


| | |
| --- | --- |
| | |
| NXTServo controller hidden under the compressor | Air tank plus small mini pumps.  The black thing is a battery pack for the servo controller.  It also acts as a counter-weight. |