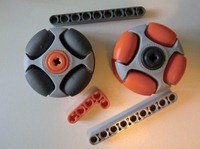 These are the new Rotacaster wheels that arrived Monday morning. The one with the orange hub has dark grey, soft, very grippy rollers; the wheel with the dark grey hub  has slightly harder, orange rollers. These are the latest prototypes and they have undergone some great improvements; the rollers roll more freely and the hubs grip the axels in a more LEGO-like fashion.
If you click on the picture, you'll be able to see how closely they match the colours of the Technic beams shipped with the NXT kits. Hopefully they will go on sale soon.  Please be patient while they sort out some final details; it won't be long now!
I put 3 different wheels on one my omniwheel frames so you can see the difference between the old prototype (the one on the left) and these new ones:
I really love the new tri-coloured look, I sure hope these are the ones they end putting into production!