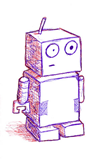 Hi and welcome to the new site.  No, I've not been hijacked, kidnapped or otherwise subverted.  This is the new home for "I'd Rather Be Building Robots". Since that whole sentence would make for a really terrible domain name, I did some brain storming for a new name and I came up empty.  Good thing my dad was in the advertising business for 25 years in a past life and he came up with "botbench.com".
I will still be writing about the stuff I was before, so don't worry about that. I will also be working on the Sensor Compendium over the next few months.  This will be the Go-To source for everything you wanted to know about sensors for the Mindstorms NXT platform and more.
The new theme is nice and clean, courtesy of my wife, Tammy, who did all the WordPress layout and plugin stuff and made the really nice logo. I'm not very good with that stuff and she most certainly is.
The old site will be set up to redirect to this one, so you should update your bookmarks, RSS feeds, etc.
Some older posts may look a little wonky with the new theme but you'll just have to forgive me for not going back over about 250 articles to check if they were OK.  I am sure you'll live.