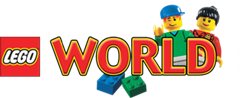 In just 6 weeks', the biggest, most exciting LEGO show is going to take place in Zwolle, The Netherlands. This year the Mindstorms and Technic themes will join forces and have a massive combined stand that will take up a complete separate area at the venue. There will be other themes there too, as well as many, many user-created displays.
I've been working very hard on a cool interactive display for this event. It'll be super fun and anyone can take part. Some of my other NXT friends and MCPs have also been working hard to make this year even more spectacular than previous years.
So don't wait too long to get tickets, you can order them online on the official website: [LINK] or pick them up at your local Intertoys store.