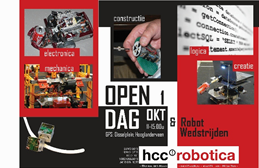 Are you in the Netherlands and want to come see lots of cool robots?  Then come to the HCC Robotica Open Day in Hooglanderveen this coming Saturday 1 October.
I'll be there with my NXTs, so if you want come by, to say "hello" or check out all the cool stuff that's there, don't hesitate to drop by!  It's always very "gezellig", so if you didn't have plans yet, you have some now.  If you did you have plans already, you can just cancel those and come here instead.  There's always next weekend to go do whatever it was you had planned.
Doors are open between 11:00 and 15:00 at the Disselplein in Hooglanderveen.