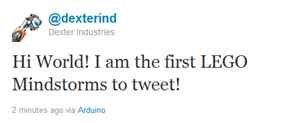 Dexter Industries have used their WiFi sensor to send a Tweet straight from the NXT over WiFi!
It uses the Arduino Tweet Library relaying site to send them which is really, really cool!  I am so going to rebuild TwitterTattle to do this.  No more tethering needed! This is fantastic.
The code for this will be available very shortly, it's undergoing some additional documenting.