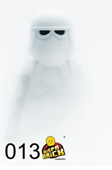 This installment of HispaBrick has a whopping 96 pages!  I'm not going to mention all of the contents here, of course.  Some of the highlights include:
An interview with Jørgen Vig Knudstorp (LEGO's CEO)
Part 1 of a LEGO Pneumatics tutorial by none other than Kevin Clague
An article by Lee Magpili about his Gaga Robots (not Lady Gaga)
A report on the Mobile World Congress – Social Web of Things
And much, much more!
Download your very own copy of HB013 right here: [LINK].