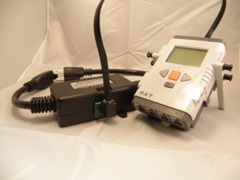 Dexter Industries have re-launched one of their first products, the dSwitch.  The dSwitch is a device that allows you to control a main-operated device with your NXT!  Pretty freaking cool, if you ask me!  The possibilities are endless:
Setup your NXT to turn on the coffee maker in the morning, wake up to the smell of a freshly brewed cup of joe
Use the dTemp sensor to control a heater in your aquarium
Using the dWiFi, remote control the lights in your house to make it appear there are people at home
Scare the living crap out of your parents/kids and set it up to turn on the entertainment system in their bedroom at 04:00 in the morning.
The good news is that there is a contest to win one!  Check out the info here: [LINK].
Please note that it is for 110V only, so anyone living in a 220/230V country is out of luck.