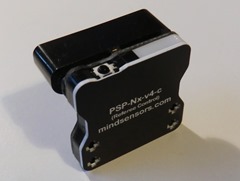 The mailman brought me a very nice package today, courtesy of the fine folks at Mindsensors!  Among its contents was a brand new PSP-Nx V4-c, the PS2 Controller Interface for NXT, together with a wireless PS2 Controller.
So what makes the new V4 better than the V3?  For one, there's the IR receiver on the back which allows it to receive commands from a remote control.  This can be used by a referee to send a "start" or "stop" signal to all the robots in an arena, for example.  You can just use a normal remote TV remote, which has a "stop" and "play" button on it.  I have not tested this, of course, I only just got it!  What happens when you use the referee "stop" signal is that the control simply stops passing the commands from the PS2 controller to the NXT.  The commands that are sent from the IR remote can be seen by the NXT, so you can program your robot to act accordingly.  It's a nice way to allow your robot to switch from autonomous to remote-controlled.
There is also a PSP-Nx V4, which does not have the IR receiver on it.
It would be best to mount this sensor on the top of your robot so the IR receiver can be reached from pretty much all angles.  I am looking forward to the mildly panicked faces of kids trying to use my robot at LEGO events while I intermittently switch off the robot's ability to receive data from the controller.  I'll be quipping Skittles, the giant omniwheeled monster, with this bad boy and post a video of it as soon as it's ready!
On a side-note, I have to say, I really like Mindsensors' new sensor package shape.  It's very distinctive and looks nicer than the solid black slabs of the previous generation.