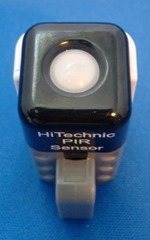 It's been a while since I last did an "exposed" article, where I take apart a sensor and take intimate pictures of its insides.  The HiTechnic Passive Infra Red (PIR) is a great one though.  It was also one of the most tricky ones to photograph and put back together.  To read more about what this sensor can do, check out an earlier article I wrote about this sensor: [LINK].
First thing you'll notice in the picture on the left is the Fresnel lens on the tip of the sensor, which is used to gather the IR radiation and project it onto the detector behind it.  The lens is about 8mm in diameter and is translucent white.  It is hard to see on the picture, but if you hold it in the right light, you can see the small ridges on the inside of the lens.
Without further ado, here are the pictures of a scantily dressed PIR sensor in all its glory.  Note that that I did not take the Fresnel lens off, it would've been impossible to get it back on again. The black piece of plastic behind the detector is to hold it in place.  I did not attempt to remove that either.  It did, however, make putting it back together quite a challenge as it didn't leave a lot of room to push the two small side-tabs back in their place.