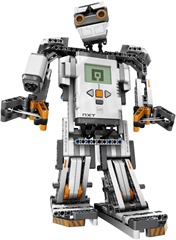 Looking for an interesting challenge to hone your robot building skills?  Want to pit your skills against the rest of the World?  If so, then The Mindstorms Annual Online Competition might be just the thing for you.
Here's a run down taken from various pages on the official site:
All entries MUST be submitted before 25th December
Up to three entries per person
Each entry can be submitted into up to 2 categories
NO COPYING You will be immediately disqualified
All entries have to be on the web
LEGO elements ONLY. Third party sensors are allowed
Each project will be marked out of 100:
DESIGN: 20 points, Is your structure sturdy and well built?
FUNCTION: 20 points, Does your robot do something well?
AESTHETICS: 20 points, Does it look great?
VIDEO (optional): 10 points
PICTURES: 5 points, Your project HAS to have pictures otherwise it will be disqualified
PROGRAM (optional): 10 points
LDD (optional): 5 points
DOCUMENTATION: 10 points, Have you documented how it works and how you built it well?
Once you have submitted you CANNOT WITHDRAW
It is better to try and cover all the things mentioned in judging
The more the better! A longer description, more pictures, detailed video, it's all good stuff!
First go to the categories page and chose two categories. Be sure to read it all to find out any special conditions!
You need Microsoft word for this! If you do not have it send me an email at: tmaoc.help@gmail.com
Download the word document and fill in all the questions
Attach it in an email
Name your email: Your name, your project    e.g. Maerskfan, TCATS
Send it to:  tmaoc.entry@gmail.com
Cross your fingers (optional)
All this info and any updates can be found on the official home page of this competition: [LINK].