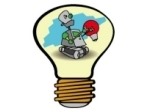 If you're in the Netherlands and you want to see loads of cool robots and talk to their creators then come to the HCC Robotica Open Day event in Hooglanderveen this coming Saturday, 6 October.  I'm going to be taking some of my robots with me.  So if you want pop by and say "hi", ask questions or just hang out, you're more than welcome!  The event is from 10:00 until about 16:00 and it's free admission.
You can find out more information about the event here: [LINK].  The page is in Dutch but I am sure Google translate will mangle it into something semi-comprehensible.
No idea where Hooglanderveen is?  Just click here to see it on Google Maps: [LINK].