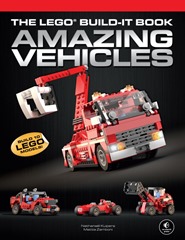 As most of my readers know, I am not much of a studded LEGO builder, most of my creations are Technic studless LEGO.  When Starch approached me to review this book I wasn't sure how I was going to be able to do build any of the models in it.  Lucky for me, the models in this book are mostly based off the inventory of the LEGO 5867 Creator set, unlucky for me, that was a set from 2010.  Not to worry, that's what Ebay and other online buy/sell places are for.  Fast forward some weeks later, I have all the parts I needed to build the things in this book.
My first impression
The book is beautiful to look at.  The graphics are stunning, the models look amazing.  The paper feels very nice and the colours in the graphics and photos are very strong and vivid.  There is a character in the book named George who helps clarify some things and explains how the book works.  It works well with this book and I did not find it campy or distracting.
The models
The book has instructions for 10 models, divided into two parts, building basics and advanced building.  I picked the Wheel Loader as the model to build.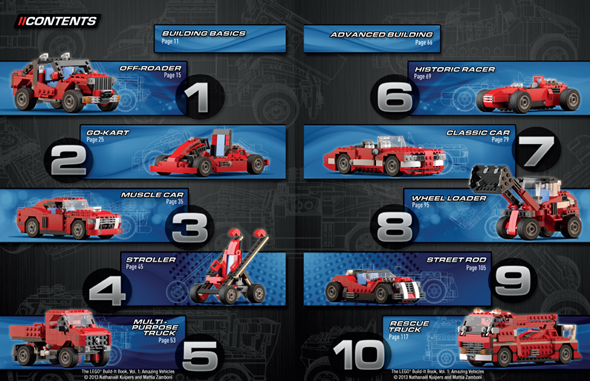 The Wheel Loader is great, I really loved the look of the model and the steering swivel thing in the middle, just like the real deal.  I substituted the square transparent orange and white lights with rounded ones because I didn't have the right parts and ended up liking it more than the original square ones.  I guess that is the beauty of LEGO, you can make it be whatever you like!  This model took me about 25 minutes, keep in mind that I am a slow builder and not all the pieces were familiar to me.
As you can see, the instructions are beautifully rendered and super clear.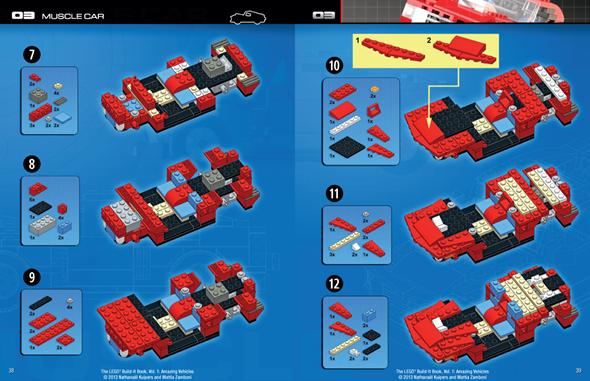 Conclusion
I've been told there are some pretty special building techniques in this book, but seeing as I am not much of a brick-builder, their value may be lost on me.  What stood out for me were the great looks of the models, the graphics and the overall quality of the book.  If you're a brick-builder and you're looking to expand your palette of building techniques or you just like cool models, then this book is definitely for you.
The book is available on Amazon and via the No Starch Press website.