I downloaded most of these background pictures from the LEGO EDUCATION website via some Google searching.  They're very nice high-res images of their models.  The reason I picked the LEGO EDUCATION images is because they're less busy than the retail ones and have a beautifully clean, uncluttered and white background.  Both these themes are essentially the same but one uses mostly white interface colours and the other uses mostly light blue.  I have only used these on Windows 8 but they'll probably work fine on Windows 7 as well.  Let me know if they don't.  I've created these on a 1080p (1920 x 1080) screen and have not tested them on anything less than that.  These are essentially just my personal themes that I use on my laptop.  They're setup to change the background every 30 minutes.
You may notice the other LEGO themes in the configuration window as well, maybe I'll post them some other time.  I don't use them much because I find them too busy and distracting but they do look nice.
These are the backgrounds I've used in the themes.  Click on them to get the full resolution versions and make your own.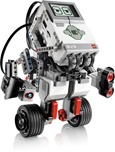 Enjoy them! You can download the complete theme pack files here:
For info on how to install custom themes, click here: [LINK].  It's mostly just click to open and then "OK" to activate.
Please note that these themes are NOT official LEGO themes and are not endorsed by LEGO in any way, but you probably already knew that.  The images in these themes are not owned by me but by their respective owners, which is most likely LEGO.