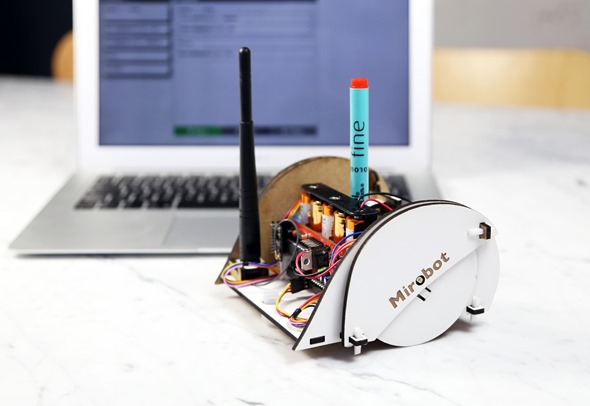 Mirobot is a very cool open source robotics kit that's completely open source and very affordable.  When I was contacted by Ben Pirt, the man behind this project, I was admittedly a little skeptical about yet another robotics system.  However, this robotics kit seems very nice and sports some very cool features:
Super easy to build, it takes just two small bolts to put it together, the rest of the parts fit together like just a jigsaw
It features actual stepper motors, so you'll get much more accurate motor movements than with standard motors or continuous rotation servos
It is programmable over WiFi; it acts like an Access Point, so you simply connect to it with your laptop and away you go
You can program it it in both Scratch and the standard Arduino programming environment.
It's super easy to solder because it's been designed that way, right from the start
It was inspired by the old-school Logo Turtle robots.  When I was a kit I played with one of those but I never had the pleasure of actually owning one.  I had to rely on other kids' ones or a simulated one on the screen.  I really love the fact that it's completely wireless.  I love this video of the Mirobot being programmed using Scratch running on a Raspberry Pi: talk about affordable robotics education!
The project is up on Kickstarter and is garnering quite a lot of interest.  It has shot past its initial pledge target by almost 300% at the time of writing this.  It really is quite a steal at a mere £50 (that's about €60 or $84 US).  If you pledge now, you should be able to receive your robot around September, so not much of a wait!