The long awaited EV3 building and programming book by Laurens Valk is finally available!  It's called "The LEGO MINDSTORMS EV3 Discovery Book" and it's 370+ pages of awesomeness.
Where to start?  The book has been printed in full colour, which is a massive improvement over his previous book and a real pleasure to read.  The colours are very bright and easy to distinguish.
When you open the book you're greeted with a very handy quick reference guide that shows you the various axle and beam lengths and sensor operation modes.  The book has a great method for not only showing how to program and build things, but also allows the reader to try out things for him or herself though "discoveries".  These are small assignments or inspirational ideas that you can implement with your current robot to add some extra functionality and reinforce some of the new things you have learned in the chapters leading up to this. There are more than 150 of these building and programming challenges spread throughout the book. They're super fun and will turn the standard robot into your very own personal creation.
The building instructions are a real pleasure to work with. Each step has a very clear list of the parts required and the diagrams are so easy to see.  With a lot of books, you can really struggle to see the difference between dark grey and black, but not here!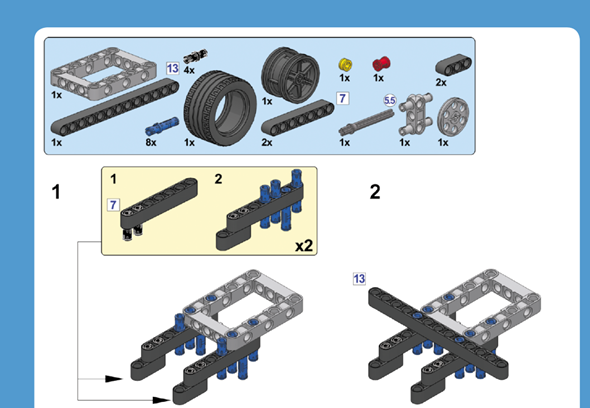 Of course, building is not the only thing you'll learn in this book.  Laurens uses very clear diagrams to teach you all the aspects of programming the EV3, starting with the basics and culminating in a walking, talking and responsive humanoid robot!

I had a lot of fun testing these models as Laurens was developing for this book and I've made all of them, with the exception of the one that's on the cover, the LAVA R3X.  The book has instructions for building and programming the following robots:
The EXPLOR3R, a wheeled vehicle that uses sensors to navigate around a room and follow lines
The FORMULA EV3 RACE CAR, a streamlined remote-controlled race car
ANTY, a six-legged walking creature that adapts its behavior to its surroundings
SK3TCHBOT, a robot that lets you play games on the EV3 screen
The SNATCH3R, a robotic arm that can autonomously find, grab, lift, and move the infrared beacon
LAVA R3X, a humanoid robot that walks and talks
If you're looking for a book that will teach you all you need to know about EV3 programming and spark your curiosity to use this new knowledge to create your own, then look no further than this one.