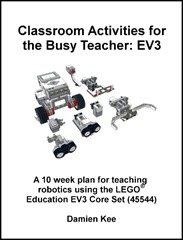 When Damien Kee asked me to write a review for his latest book, the first thought that came to my mind was "Uhm, I am not a teacher! How am I supposed to have an opinion on this?".  Truth be told, I have done quite a few workshops in classrooms with kids, adults and a mix of both.  So while I may not be doing this on a daily basis, I do have a decent idea of what works and what doesn't in a busy classroom environment.
What it is.
Damien's "Classroom Activities for the Busy Teacher: EV3" is, as the name might suggest, a well thought out collection of robotics programming and building activities for the classroom.  It uses a single, easy to use base robot called the RileyRover, which, incidentally, is named after one of his kids (no, it's not Rover).
The curriculum in the book is designed to take 10 weeks and requires the LEGO MINDSTORMS EV3 Education kit (45544).
How it works.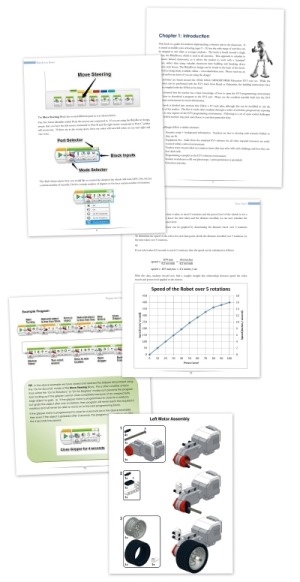 Each chapter is split up into sections:
What you'll need to complete the activities
Teacher's notes, in other words, topics covered, what can you expect to happen, things to look out for
Details about the activities, how they should be done, the results
How to use the worksheets
There are great tips sprinkled throughout the book that will give you useful insights and will help you make your class an even bigger success.  Some activities will require you to build an additional actuator, such as a gripper or scoop, to reinforce certain concepts.  They are easy to make and simple to attach to the RileyRover.
What I like about it.
I had fun reading this book and I could really see how the tips and notes would be very useful for a teacher, they allow the book to get the points across in a much more effective way.  Things that really jumped out were:
Very structured curriculum layout
Covers everything you need to know to be able to run a curriculum based on the EV3
Easy to use basic robot that can be expanded with additional actuators that can be assembled quickly
What I didn't like about it.
I struggled with this one but no book is without its weak points:
This book doesn't cover things like data wires, advanced math block, arrays.
Some of the attachments will require you to "recycle" parts from a previous one, you can't have all of them fully built at once.
Conclusion.
If you're looking for an easy to use and well thought out curriculum for the EV3 to get the kids started with programming their first robot, then look no further than this book.  It has everything you need, including building instructions and student worksheets.  You can buy it in PDF format and hardcopy.