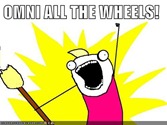 "Omni all the wheels!" That was my first thought when I received these new Rotacaster 125mm omniwheels.  They're fantastic looking and HUGE, about 3 times the diameter of the 43mm ones that are being sold now.  They have some pretty impressive stats; they can handle a load of more than 100 kilos each!  I am not sure when they are due to be sold or if they ever will be.  Currently there are two people that I know of that are testing these, Simon Burfield and myself.  Simon has had his for a little while now and made a pretty cool platform with them.  Here's a video he shot of his really large test platform.  12.5Kgs of weights on it == no problem!
I've taken some pictures so you can see what they're like.  Click to enlarge.
I will keep you posted on what I end up making with them.  I have 4 of them, so I am pretty sure I can come up with something cool!