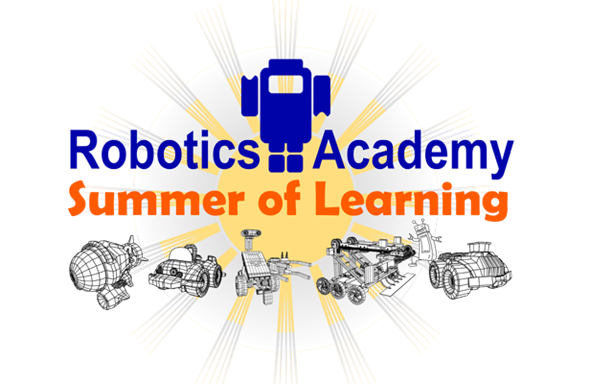 The summer of 2013 is gearing up to be more than just a time for chilling by the pool!
The 2013 Summer of Learning is sponsored by Carnegie Mellon's Robotics Academy and uses their Computer Science Student Network (CS2N) Project to host all training plus resources provided by The Robotics Education Foundation, VEX Robotics Inc., and Robomatter Inc. This summer students and  teachers will have the opportunity to develop programming skills, earn certifications, and win prizes. The training, the certifications, and the competition will be hosted online via CS2N. The Robotics Summer of Learning Project (RSOLP) information can be found online at www.cs2n.org. This document provides information about the free resources and opportunities that are available through the RSOLP. You will  also learn about the $10,000 worth of prizes and scholarships associated with the RSOLP.
It's all set to be launched on June 1 and ends August 31.  During that time you can earn badges for achievements and finish off with a proper certification.  That sounds like a lot of fun!  It's not going to be a walk in the park, though.  If you want to get this certification, you will have to work to earn it!  The cool thing is that along the way, as you earn your badges, you can post about them on Facebook, Google+ and LinkedIn.
If you think "That's nice, but how much is this going to cost?" then fear not.  It's free, as in no costs involved, at all.  You can download a free license for Robot Virtual Worlds that you can use to complete these challenges.  All you need to do is download RVW (if you don't already have it) and create a CS2N account (if you don't already have one) and start playing with it!  You can download the software from April 20, so you can practice a bit before the real thing starts.
Did I mention there would be prizes?  They include:
Free software
Robot kits
Scholarships of various amounts
Robomatter have launched a brand new Robot Virtual Worlds website which you can find here: [LINK].  The CS2N website has also been updated with lots of information about the Summer of Learning, go check it out: [LINK].  You can also download a flyer here: [LINK] and an Information Pack here: [LINK].
This is going to be awesome!