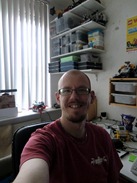 I'm always curious to know how other people's LEGO rooms look.  I made a quick video of what mine looks like so you can see.  It's pretty tidy now because this is also my home office and I can't work very well if it's all cluttered.  It doesn't look this tidy in the weekends.
I have a small box with LEGO that I use to build with. I will only grab from the bins on the shelves if I can't find it here.  Usually this is enough to tweak the models I already have.  It doesn't work very well if I am building something from scratch.
Do you have a cool LEGO Lair?  How do you build?  Do you have LEGO bricks strewn all over the floor or in neat piles?  How do you store your bricks? Why not make a little movie of it and put it on YouTube.  Post a comment with a link to it on this post.
I spotted a typo in my video but it took an hour to upload, so you'll have to deal with it.