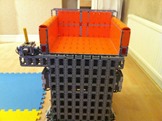 Simon Burfield, a.k.a. Burf has made a super cool model.  By model I mean chair and by chair I mean omnidirectional wheelchair. Oh and it's life-sized, too.  Yeah, it is capable of handling no less than 90 kg!  I saw a video of an early prototype a few weeks ago but this new one is even better-er!
Some facts:
It uses 7 Mindstorms bricks. One for controlling and 6 that are used for moving.
Each driving NXT has two motors attached to it.  I presume that a third motor would probably be pushing it when it comes to providing current.  It's not easy to push that much LEGO and human meat around.
The master NXT has 4 touch sensors connected (forward, back, left and right) and 2 motors to switch on the drive touch sensors.
It uses Rotacaster's omniwheels to make it possible to move in any direction (except up, of course).
Here's one of the videos he made:
Isn't this awesome? Go check out the other pictures and videos on the original article page: [LINK].