CONSUMER ELECTRONICS SHOW, LAS VEGAS (January 7, 2013) – Today The LEGO Group announced LEGO® MINDSTORMS EV3, a new platform for consumer robotics designed to introduce a younger generation to the excitement of building and programming robots while adding new flexibility for its devoted following of robotics enthusiasts. Unveiled for the first time at the Consumer Electronics Show in Las Vegas, Nevada, LEGO MINDSTORMS EV3 is the result of three years of product development by an international team of LEGO designers, MINDSTORMS user-enthusiasts and leading technology experts. LEGO MINDSTORMS EV3, available in the second half of 2013, will be previewed to members of the global media at Digital Experience! on January 7 and will be demonstrated to CES attendees during the Kids@Play Summit, January 8-11, 2013, in the Venetian Hotel.
So what exactly is the new MINDSTORMS EV3? It's more than a simple upgrade of the previous brick.  The new EV3 brick sports a massive upgrade in memory, CPU power and expandability.  Here are some of the hardware specs to whet your appetite:
An ARM9 processor
16MB Flash storage which you can expand with a micro SD card
64MB RAM
A Linux OS (very hackable!), which will be released under an Open Source license
A USB host interface, allowing you to hook up a WiFi dongle.  You can also daisy-chain up to four bricks through USB and program them as one.
4 sensor and 4 motor ports
A much bigger screen and much improved loud speaker
Additional interface buttons, with backlight, for status indication purposes
Bluetooth 2.1
iOS and Android compatible
Backwards compatible with the LEGO MINDSTORMS NXT, so NXT sensors should work just fine with the new system
On the software side of things there's a completely new and intuitive programming graphical environment that runs on both PC and Mac. A very cool new feature in the new programming environment is the ability to zoom, yes, you read that right!  This makes working on bigger programs so much easier.  On the brick itself, you can program user a simplified interface.
In the box you'll find the following:
3 Interactive Servo Motors: 2 large and 1 medium, both have encoders.
1 Touch Sensor
New IR Seeker Sensor measures distance to objects and can be used to detect direction of the IR Beacon
New IR Beacon remotely controls robot from up to 6 feet away; it uses the IR Seeker a receiver in that case
Improved Colour Sensor detects 6 colours plus the absence of colour
Assortment of 594 LEGO TECHNIC® elements
As well as this, LEGO MINDSTORMS EV3 will have building instructions for 17 robots, including:
Everstorm, a very cool looking robot with a Mohawk that can shoot mini spheres
Spiker, a scorpion-like robot that searches for the IR beacon
Reptar, a robotic snake that slithers, shakes and strikes, this thing stands super tall and is very cool looking
There are also a series of modular builds, so you can get started within a couple of minutes.  You can easily modify the robot by adding elements or sensors and add new functionality.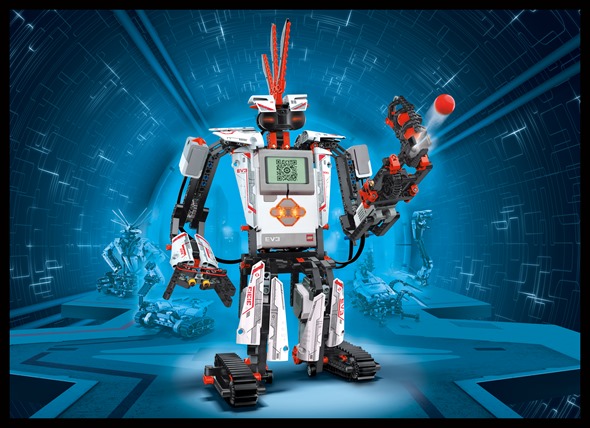 There's also a mission pad that comes with the box, so you make your own challenges!  The building instructions for the robots are totally 3D, so you can pan and zoom all around each step as you work your way through creating your new robotic pal (or pet!).
For non-English speaking users, there's much to rejoice, in addition to the English, French, German and Dutch languages, you'll also be able to use the new software in Russian, Chinese (I assume that is Mandarin), Korean, Japanese, Spanish and Danish.
The new platform came about through the collaboration of product designers from all over Europe, and the US.  An international core team of users, from all across the globe were asked to test, create models and hack the environment.  I am very happy to say that I was privileged to be one of those 12.  That's us in front of the LEGO factory last year. I will post more about that journey at a later point in time.

There is so much to tell and I couldn't possibly fit all of it in this one post, but rest assured that many, many more posts will follow in the next coming months before the launch in the second half of 2013.
Laurens has written an article about the launch on his blog, which you can find right here: [LINK].