I couldn't believe my eyes this morning when I saw that Botbench had reached 400,000 views!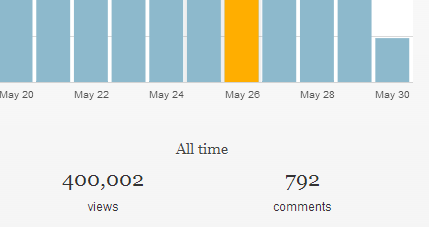 Some other stats:
On the busiest day (8 Jan 2013) I had almost 3000 views.  This was mainly caused by the announcement of the EV3.
I've written 412 posts in total.
About a quarter of views come in via search engines.
19% of all views are people looking for the free downloadable ISOs of NXT-G 2.0.
So thank you to all my readers for spending some of your precious time on my little corner of the Internet!