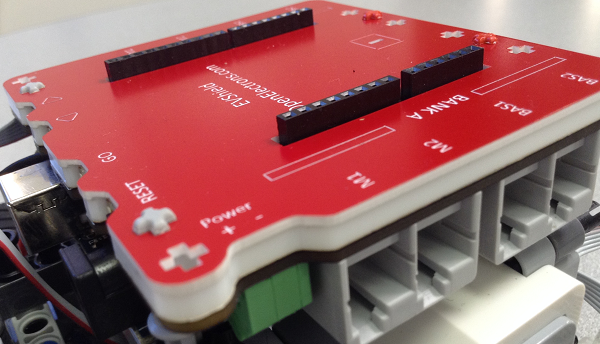 UPDATE 26 JAN: The Kickstarter Project is now live, go check it out: [LINK]
OpenElectrons, which is run by the guys who own Mindsensors, are about to start another Kickstarter campaign for their latest creation: the EVShield for Arduino Uno, Duemilanove and Leonardo.  What is it, you might ask?  As Deepak explained it to me:
EVShield will support all NXT, EV3 motors, and most of the sensors (including several third party sensors such as  Hitechnic and Dexter sensors).
It will have a modular C++ Arduino library. The library is designed such that it will be easy to add new sensor classes to support more sensors (that's how we will add support for several third party sensors). EVShield will use only I2C pins from Arduino, thus making it easy to add more shields without much of a conflict. BTW, the center layer of the EVShield is a translucent material, with three high intensity multicolor LED's  inside … (it looks very cool when the LED's are blinking).
Take a look at this preview video they posted a week ago, or so.
The campaign should be up sometime next week and they're looking for beta testers!  Go check out the OpenElectrons website for more info.  When the campaign goes live, I will post an update here.  I've seen a previews of the Kickstarter page and it looks great; the internal LEDs make it look super cool.