Don't fall off!

Yesterday was the fourth installment of the RobotMC Team Building Day.  This event is organised every year and is probably the most laid-back and fun robotics event on the planet, I kid you not.
It is an all-day event, starting at about 09:00 and ending at around 17:00, so it's a long day of building, programming and playing.  At the start of the event you get told what the challenges are. Usually there are three of them, some easy, some difficult but every year they're different. Once the challenges have been explained, you get until about 15:30 to build and program you robot.  Then the robots are pitted against each other.  The challenges are made in such a way that complete beginners also have a chance to complete (some of) them without getting frustrated in the process.
There were 6 teams, 3 of which were Mindstorms based!  That's right baby! The theme for this year was "Don't fall off!".
Challenge 1
A line following challenge where you have to push cans that are in your way off the line.  This wasn't a very difficult one if you have a Mindsensors Lineleader sensor but a little more challenging for some of the other teams who had to make do with a normal LEGO light or colour sensor.  The non-LEGO robots used a variety of home made sensors to accomplish the task with varying degrees of success.
Challenge 2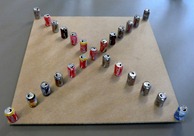 A large square with 25 cans set up in an X-shape. The task was to push all the cans off without allowing your robot to fall off.  It was very cool to see the different approach each team took to solving this challenge.  Some used sensors to detect the cans and push them off, other such as my team and Team Spirit used the "drive around randomly and just try not to fall off" tactic, which actually worked remarkably well.  Sometimes the simple approach works best.  Thanks to Krijn's (Team Spirit) for inspiring us to also attach a tail-like appendage to our robot, it worked really well!
Challenge 3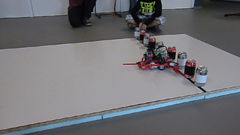 This was actually a pretty difficult challenge.  I don't think anyone really got it right and those who got a few points here (like my team) did so purely by luck not incredible programming skill.  A large "table" had a row of cans on one end, lined up.  They had alternatingly black and white bands on them.  The challenge was to push the black cans to one side of the line and the white ones to the other side.
Lack of time (not skills, of course) was the excuse used by all to explain the rather poor performance of the robots.  I completely share this opinion, naturally.
Building and programming the robots
In the weeks leading up the Team Building Day we are given hints and small "tips" so you can prepare a robot a little bit without really knowing what the challenges are about.  That way you don't need to start completely from scratch.  That's a great help for the folks who don't use Mindstorms (I know, sounds crazy, right?).  I had built a robot the night before that I felt was pretty universal and would probably be OK.
| | | |
| --- | --- | --- |
| | | |
| Marc, the creative brain behind our challenges! | John looking very pensive. | Krijn working hard on a gripper for his robot. |
| | | |
| --- | --- | --- |
| | | |
| Joachim and Patrick. | Jildert building additional bits and pieces for our robot. | The FisherTechnic guys, two brothers and son. |
| | | |
| --- | --- | --- |
| | | |
| Jan, a serious threat in any robotics competition. He's an amazing programmer and builder. | Joep and Karel working on their home brew bot. | The three Mindstorms robots waiting for their turn. |
Below is a video of the robots doing their thing.  It wasn't always the thing their respective owners had intended, however.
A fun day was had by all!