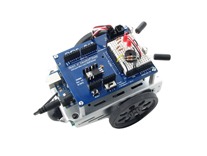 You can now download version 3.12 of ROBOTC which also supports the Arduino, in addition to the already existing platforms such as NXT and Cortex!  This is a beta release, and if you install it, it will replace whatever version you already have. I've never had major issues with betas before but as they say "When you're on the cutting edge, expect to bleed."
This version supports the following Arduino platforms:
Please note that in order to use the ADK boards, you will need to replace the bootloader, which requires an actual programmer.
More information on this release can be found here: [LINK].
ROBOTC for Arduino Known Issues (328P Based): [LINK] ROBOTC for Arduino Known Issues (MEGA Based): [LINK]
A changelog will follow, most likely after the weekend, so stay tuned.