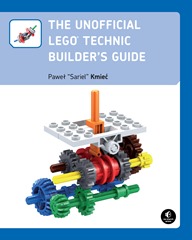 When I first heard this book was coming out a few months ago, I couldn't wait for it to become available on Amazon.  Fate would have it be that last week I was contacted by No Starch Press to ask if I was interested in reviewing this book.  It took all of about 1 ms to make up my mind; of course I would love to!  I had high expectations for this book, being written by none other than Paweł "Sariel" Kmiec, a man whose reputation for building awesome creations is practically legendary.
You can imagine my relief when I started reading through this book that it lives up to everything I had hoped it would be.  It  is printed in colour and covers just about everything you'd expect from a builder's guide:
a description of all the beams, axles, connectors, cogs and other elements and how to combine them in ways I hadn't even imagined;
various levers and linkages, ranging from simple to the more complex and exotic like the "Peaucellier–Lipkin cell" (don't worry if you've never seen one before, I know I hadn't);
really cool looking (and functional, of course) custom mechanical solutions such as differentials, Geneva mechanisms and a double-axle turntable transmission and much, much more.
I could go on and on, but I am not going to list the entire book for you here.  It is easy to see that a lot of hard work has gone into making this book.   Reading this book was truly a journey of discovery.  The author has gone through great lengths to explain all the different ideas and techniques.  Whether you are looking for a new pneumatic pump idea or a wheeled suspension system for your truck, this book will be able to help you out.  No matter if you are a beginner or a veteran builder, you will find inspiration within this book;  there truly is something for everyone in here.  I may sound like a am rambling but I simply can't say enough good things about this book; you'd be crazy not to get it.
You can find more information about the book on the website: [LINK].  There you will also find a Table of Contents and some other bits of info.  If you're quick, you can pre-order this book from NoStarch with a 30% discount if you use the  coupon code PREORDER.  The book will be officially on sale at the end of October 2012.