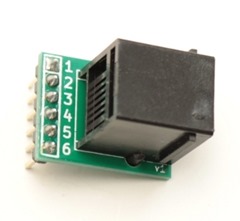 Last week, I received no less than 6 of the Bricktronics Breakout Boards from Wayne & Layne LLC.  If you think that name sounds familiar, you're right, they're the authors of the "Make Lego and Arduino Projects" book.  These adapters would definitely be indispensable if you're planning to do any kind of tinkering with your Arduino and whatever NXT peripherals you had in mind.
I had a lot of fun putting them together and they plugged into the breadboard very easily and sat very snugly afterwards.  They're very reasonably priced at just $4 a piece.  They come with the required 82K Ohm resistor, which you will need for the pull-up.
If you're looking to start tinkering with Arduino and want to use your NXT sensors, why not check out the book.  They have a lot of other cool stuff on their store as well, so go check it out: [LINK].
I often use adapters like this to create breakout circuits, so I can hook up my  Saleae Logic analyser.  It saves me having to cut up wires.  This breadboard also has a MAX485 on it, so I can debug the high-speed serial stuff on the NXT, super handy!