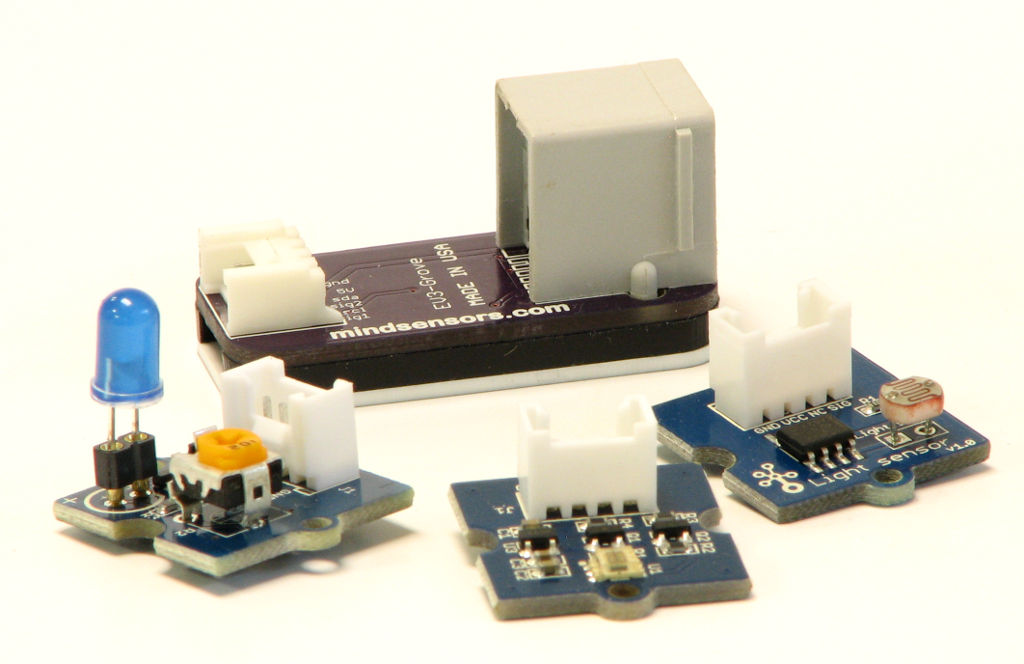 I was wondering if a one of the 3rd party sensor companies was ever going to come up with an EV3/NXT adapter for the Grove System.  Not sure what it is?  Grove System is an interface standard that allows you to connect all sorts of peripherals to your microcontroller.  There are adapters for Arduino and RaspberryPi, but not for the EV3 or NXT.  Until now, that is.
First, let allow me to copy and paste what the Grove wiki has to say about the system:
Grove is a modulated, ready-to-use tool set. Much like Lego, it takes a building block approach to assembling electronics. Compared with the traditional, complicated learning method of using a breadboard and various electronic components to assemble a project, Grove simplifies and condenses the learning process significantly. The Grove system consists of a base shield and various modules with standardized connectors. The base shield allows for easy connection of any microprocessor input or output from the Grove modules, and every Grove module addresses a single function, such as a simple button or a more complex heart rate sensor. Each one comes with clear documentation and demo code to help you get started quickly. The Grove system also offers stand-alone mixer packs (Grove – Mixer Pack and Grove – Mixer Pack V2) that include a set of Grove modules that can be connected with each other to circuits without having to use a base shield of any sort. This way, various projects and circuits that do not need micro-controllers or microprocessors can be built.
If you check out that Wiki page, you'll find more sensors than you can shake a robot arm at, it's really unbelievable.  The Grove System has User Interface units too, but I don't think they will work with this adapter, Mindsensors' own description of the sensors leads one to believe that it is for sensors only.
So, Mindsensors has made it possible to connect ANY of the Grove System sensors to your EV3 or NXT using the EV3-Grove and that's pretty awesome.  I don't have an ETA yet, but as soon as I find out more, I'll let you know.