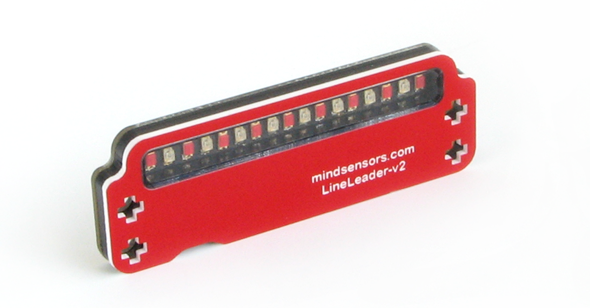 Mindsensors have released a new sensor, or rather, a new edition of one of my most favourite ones: the LineLeader v2.  The v2 has a new, better, processor inside and has been optimised to work better with the rather, ehm, tempestuous I2C implementation on the EV3.  That means that you can be sure that it will operate just fine.  Other improvements include better spacing of the sensors to make for tighter line following and better corner handling.  Other changes include a rounder shape and of course a beautiful red casing.  It stands to reason that this sensor is, of course, backwards compatible with the NXT.  If you're looking to make a high-speed line following robot, I can highly recommend this sensor.
It's available on the Mindsensors website.  The internals for this sensor is somewhat different from the V1, so I will need to rewrite the ROBOTC driver.  Rest assured that it will be supported as soon as mine arrives in the post.  I look forward to playing with this!
Here's an old video of a line following robot I made with a prototype of one their earlier line following sensors.