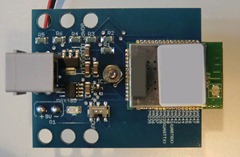 The mailman brought some shiny new toys this morning, one of which included the all-new Dexter Industries WiFi sensor. I don't have all the technical details for this one yet, but like the NXTBee, it uses the NXT's RS485 port for high-speed communications.
It has a clip to hold a 9V battery on the back, the red and black wire you see is for the 9V battery connector.
This module has a lot of very cool features:
Radio Protocols: 11b/g/n (pretty much all of them)
Security: All the standard crypto methods, including WPA/WPA2 and WEP and many more.
Network Protocols: on top of the standard UDP and TCP, it can also act as both a web client and server; your robot can go online!
I will reveal more details later (I simply don't have any more), for now the somewhat blurred out picture above will have to do.