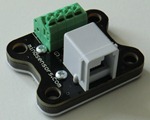 If you're a fan of the NXT as a programming platform but would like to control something beefier than just an NXT motor, you used to either have to resort to using relays or concoct your own controller board to handle the extra current.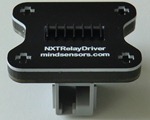 The latest offering from Mindsensors, the NXTRelayDriver, is about to change that. It's not really a sensor; think of it as as an amplifier for your motor port. In your program you would use it the same way you would control an old-style RCX motor. You connect it to your motor port using a standard NXT cable.
The electrical specs of these things are pretty impressive: they can handle a load of max 10A at 18V, while only pulling 1mA from your NXT's batteries. If you look at the picture on the left you'll see the small cooling fin; I would suggest you keep that somewhere on the outside of your robot if you're going to run that much power through it, though. This device is about 5×4 units big.
Their price will be $24.95 each and are due to be on the shelves around mid-June.