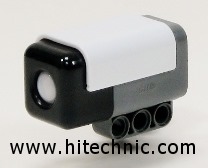 HiTechnic have released a new product; the HiTechnic Passive Infrared (PIR) sensor.  With this sensor you can detect movement of warm bodies, such as pets and people.
How does it work?  All warm bodies, such as people and pets emit a certain amount of heat, which is Infrared radiation.  This particular sensor keeps track of changes in the amount of IR radiation that it detects.  If the change is too great then it assumes that it must be because something is moving in front of it.  This sensor works best detecting objects that are between 30 and 50C, since human bodies tend to be around 37C, that works out well.

The HT PIR divides the area in front of it into two zones.  If the object is to the left of the sensor, the values returned by the sensor will range between 0 and 127.  An object to the right of the sensor will cause it to return values between 0 and –128.  This makes it super easy to use this sensor as a part of an elaborate alarm system for your room or a even a heat seeking shooter bot.  No longer will your cat be able to simply jump on the counter and feast on the snacks you've accidentally left there.
You can read more about this cool (or should that be hot?) sensor here: [LINK].