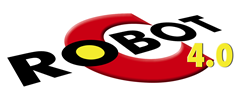 The people who watched last week's Webinar, got a glimpse of what's coming in ROBOTC 4.x.  I'm very excited about this as it will support two new platforms: the VEX IQ and of course the new MINDSTORMS EV3.  I'm currently working on overhauling the Driver Suite, so it will be ready for the launch of ROBOTC 4.x later in autumn this year.  So what can you expect?  Here's a list of planned features:
An even easier to use Natural Language, to make getting started with ROBOTC more intuitive
Leveraging the EV3's and VEX IQ's ability to auto-id connected motors and sensors, you'll be able to configure ROBOTC's motor and sensor configuration automatically.
Make drag and drop even better to make it easier to use for new users.
A much fancier editor that does stuff like code collapsing (yum!), better auto-complete and improved tweakability.
More programming examples, for both the existing and new platforms.
The VEX version will support VEX Cortex and VEX IQ
The MINDSTORMS version will support NXT and EV3
Just like what they did with for the RCX when going to ROBOTC 3.x, a free stand-alone version will be made for VEX PIC users.
If you're concerned about buying ROBOTC now, don't worry, you will be able to upgrade as soon as ROBOTC 4.0 is released.  Not all pricing details have been finalised but they've made a list of people who are eligible for upgrades and at what price.
Current ROBOTC Users Upgrade Details:
3.0 Perpetual Users (who purchased in 2013): No upgrade fee! Full purchase price will be applied towards same type of license for 4.0.
3.0 Annual Users (who purchased in 2013): 50% discount on equivalent 4.0 License
3.0 Perpetual Users (who purchase before 2013): 50% discount on equivalent 4.0 License
Upgrades will be available for up to 6 months after the official release of ROBOTC 4.0.  Beta version of 4.x will be made available for playing with throughout the summer, so make sure you keep checking back here or at the official ROBOTC blog.