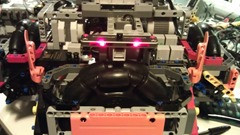 My robot Skittles is a big robot; he's probably one of the biggest wheeled robots I've made so far.  When the Mindsensors PSP-Nx-V4 came in last week, I knew I had to make it remote controllable.
I finished up the last bits of the driver for the new sensor yesterday and so this evening I cobbled together some code to make it work with the Mindsensors Motor MUXes that were already on there.  It was quite a challenge to somehow figure out a way to hold the camera while I controlled the robot, so I made a clever rig with a belt and gorilla pod.  You'll have to watch until the end of the video if you want to see how awesome I looked.
As you can see in the video, Skittles can't get over the threshold of about 1cm when he goes for it at a straight angle.  However, when he's turned to face it diagonally, he has no problems at all!  The only trouble is that right now I am using cheap AA batteries and they don't last very long at all with these motors working as hard as they do.  It wasn't long after the video was done that they gave up.  Oh well, at least I managed to get a decent-ish video out of it.
Skittles uses:
Big thanks to both Mindsensors and Rotacasters for the cool toys they sent to me to play with!